Blog
Black Youth Vote Civic Leadership Conference
By Black Youth Vote! on 08/24/2013 @ 06:37 PM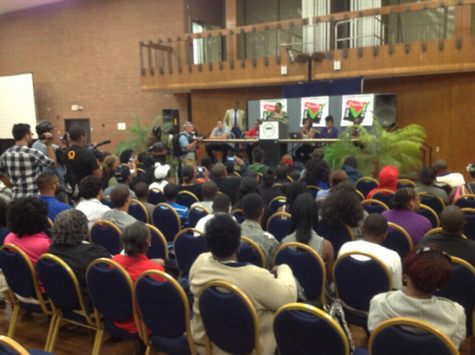 About 300 young people got fired up and ready to march during the Black Youth Vote (BYV) and A. Philip Randolph Institute (APRI) pre-march rally at Howard University. Panel (L-R): Diallo Brooks, BYV Alumni/People for American Way Foundation; Ronnie Mosely, BYV GA (standing); Lucas Melton, BYV FL; Roberta McCleod, Howard University (at podium); Brittaney Staton, APRI; Illai Kenney, BYV; and Terrence Muhammad, Hip Hop Caucus.
Black Youth Vote Statement on the Trayvon Martin Case
By William Kellibrew on 07/15/2013 @ 06:37 PM
On July 13, 2013 the,"Not Guilty" verdict in the case against George Zimmerman for killing Trayvon Martin was the shot heard around the nation. This verdict although disheartening served as fuel to reignite the conscious of Black youth in America.
The tears, and pain we felt quickly turned into a call for continued action and support in Justice for Trayvon. We must use this time and feelings of anger to come together and strongly state that our lives do matter, that we should not be judged by what we wear, what we listen to our the mistakes we may have made when we were younger. but by who we are as a people.
Black Youth Vote! stands with the family of Trayvon Martin and will continue in the fight for Justice for Black Youth across the nation.
We are soon approaching the 50th Anniversary of the March on Washington where it is time for the youth to reaffirm our place in history and defend the rights we as a people are entitled. We are suffering in our communities, and can no longer watch as the lives of our youth are being disregarded. on August 24, join Black Youth Vote! as we represent our youth in our fight from Freedom and Justice
Jessica D. Brown
Black Youth Vote! National Field Coordinator
Domestic Violence & Sexual Abuse Survivor Responds to SC Governor Haley's Remarks about Prevention Programs for Rape and Assault Victims
By on 07/20/2012 @ 12:44 PM
Washington, DC - William Kellibrew IV, deputy director and national victims advocate, National Coalition on Black Civic Participation, made the following statement in response to Governor Nikki Haley's remarks about rape and domestic assault prevention programs:

"The recent remarks by South Carolina Governor Nikki Haley calling rape and domestic assault prevention programs a 'distraction' for the Department of Health and Environmental Control in order to justify nearly a half million dollars in budget cuts are appalling and insensitive to victims of domestic violence and sexual assault. With that type of attitude toward victims it's no wonder that, according to the National Coalition Against Domestic Violence, the state she leads ranks seventh in the country for the number of women killed by men, and has had a rate of sexual violence higher than the national average since 1982.
"Governor Haley may think that the only thing victims of violent crimes need is 'sympathy and encouragement,' however, as a person who as a child witnessed the brutal murder of my family in our living room, I assure you that victims of domestic violence and sexual assault need extensive medical and mental health care services. The lack of services adds tremendously to the public health crisis and becomes more costly in the long run. I did not receive desperately-needed therapy or support for three years after my mother and brother were murdered so I understand that cutting funding for victims is dangerous and a direct slap in the face to those who need these services the most. Reducing funding sounds contrary to the agency's mission of protecting South Carolina's public health.
"I urge Governor Haley to venture out into the community and speak with victims of domestic violence and sexual assault and I'm sure she will recognize that we need support in every way possible. Perhaps Governor Haley should consider that an increase in funds for prevention programs could reduce the number of women killed in her state, reduce South Carolina's high rate of sexual violence, and lower costs over time."
Young and Black Voters Turn Out in Wisconsin Despite Suppression Efforts
By Brentin Mock, The Nation. on 06/06/2012 @ 07:00 PM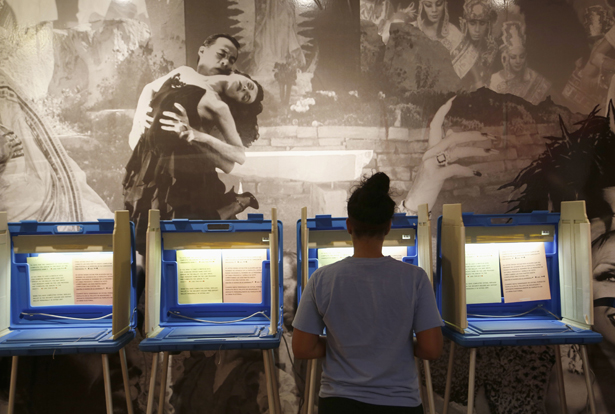 A citizen takes to the poll to cast her vote in the recall election against Republican Wisconsin Governor Scott Walker in Milwaukee, Wisconsin, June 5, 2012. Reuters/Darren Hauck
It may not feel like there's anything positive to make out of the unsuccessful bid to recall Governor Scott Walker in yesterday's Wisconsin elections, but there were hints of optimism. Young voters and African-American voters did more than their part to show up, according to exit polls and early reports, despite significant efforts to confuse and challenge them from groups that profess to be fighting voter fraud.
In Milwaukee Mayor Tom Barrett's seven-point loss to Walker, voters aged 18–29 increased their slice of the electorate from 15 percent in 2010 to 16 percent yesterday. Black voters came out mob-deep. John Nichols, who's been covering Wisconsin inside-out for The Nation, reported, "Turnout was up dramatically, so much so that on election day election clerks had to be shifted to predominantly African-American wards."
This was mainly true in Racine and Milwaukee, where young people and people of color have seen enough murder and lack of educational and economic opportunity to drive them to the polls, recall or not.
"We had several hundred youth out there showing that they are invested in their future, that they do understand the politics of today and that if folks are willing to listen to us we can help create meaningful change," said the deputy director of the League of Young Voters, Carey Jenkins, who simply goes by "C.J." He noted that in the last six weeks, League youth knocked on over 110,000 doors. "It felt like 2008 all over again." A Milwaukee-Wisconsin Journal-Sentinel graph shows the shift in youth votes between 2010 and 2012: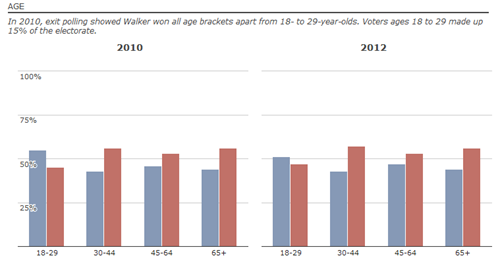 (From the Milwaukee-Wisconsin Journal Sentinel online)
It wasn't enough to carry the whole state, which mostly went to Walker. One takeaway from this election, though, is that massive grassroots organizing is no longer the exclusive domain of Democrats and their civil rights and labor allies. The right wing has found ways to go mob-deep in its own way, as evidenced by the presence of the Tea Party group True the Vote, a group that wants their "poll observer" activities to make voters feel like the police are following them.
True the Vote traveled all the way from Texas for this Wisconsin bout, stringing along hundreds if not thousands of poll observers from around the country. It's worth examining how close they are working with the Republican Party.
BP Agrees to Add More Than $400 Million in Pollution Controls at Indiana Refinery and Pay $8 Million Clean Air Act Penalty
By Environmental Justice EPA on 05/24/2012 @ 08:23 PM
WASHINGTON - The U.S. Environmental Protection Agency (EPA) and the U.S. Department of Justice announced that BP North America Inc. has agreed to pay an $8 million penalty and invest more than $400 million to install state-of-the-art pollution controls and cut emissions from BP's petroleum refinery in Whiting, Ind. When fully implemented, the agreement is expected to reduce harmful air pollution that can cause respiratory problems such as asthma and are significant contributors to acid rain, smog and haze, by more than 4,000 tons per year.
"Today's settlement will protect the residents of northwestern Indiana from harmful air pollution by requiring state-of-the-art pollution controls," said Cynthia Giles, assistant administrator for EPA's Office of Enforcement and Compliance Assurance."BP's agreement to install fenceline monitoring will also ensure that residents have access to critical information about pollution that may be affecting their community."
"In this case, BP North America has not lived up to all of its obligations under an earlier settlement agreement and has committed new violations of the Clean Air Act at its Whiting refinery in Indiana," said Ignacia S. Moreno, Assistant Attorney General for the Environment and Natural Resources Division of the Department of Justice. "This settlement secures a significant penalty, requires state-of-the-art controls, and is a fair and just resolution that will address BP's violations. We will continue to hold BP accountable and ensure that it complies with the nation's environmental laws."
The complaint alleges violations of Clean Air Act (CAA) requirements at the Whiting refinery in connection with construction and expansion of the Whiting Refinery, as well as violations of a 2001 consent decree with the company that covered all of BP's refineries and was entered into as part of EPA's Petroleum Refinery Initiative.
Today's settlement will lead to the installation of innovative pollution controls on the largest sources of emissions at the Whiting refinery, including extensive new controls on the refinery's flaring devices. Flaring devices are used to burn-off waste gases. The more waste gases sent to a flare, and the less efficient the flare is when burning those gases, the more pollution that will occur. Under the settlement, BP will install new equipment that will limit the amount of waste gas sent to flaring devices in the first place, as well as implement innovative, cutting-edge controls to ensure proper combustion efficiency for any gases that are burned in a flaring device. The requirements, similar to those included in a recent settlement with Marathon Petroleum Corp., are part of EPA's national effort to reduce emissions from flares at refineries, petrochemical and chemical plants.
In addition to the controls on the refinery's flares, the settlement will also result in reduced emissions by imposing some of the lowest emission limits in refinery settlements to date, enhancing controls on wastewater containing benzene and providing for an enhanced leak detection and repair program. Today's settlement also requires the Whiting refinery to spend $9.5 million on projects at the refinery to reduce the emissions of greenhouse gases.
BP will perform a supplemental environmental project in which they will install, operate and maintain a $2 million fence line emission monitoring system at the Whiting refinery and will make the data collected available to the public by posting the information on a publicly-accessible website. Fenceline monitors will continuously monitor benzene, toluene, pentane, hexane, sulfur dioxide, hydrogen sulfide and all compounds containing reduced sulfur.
BP Products North America Inc., headquartered in Warrenville Ill., engages in the exploration, development, production and marketing of oil and natural gas, and additionally operates petroleum refineries in California, Indiana, Ohio, Texas and Washington. BP North America Inc. is a subsidiary of BP p.l.c., headquartered in London, England. The Whiting Refinery has a refining capacity of approximately 405,000 barrels per day, and is the 6th largest refinery in the United States.
The state of Indiana, the Sierra Club, Save the Dunes, the Natural Resources Defense Council, the Hoosier Environmental Council, the Environmental Law and Policy Center, the Environmental Integrity Project, Susan Eleuterio and Tom Tsourlis also joined in this settlement.
The consent decree is subject to a 30-day public comment period and final court approval.
More information about the settlement: http://www.epa.gov/compliance/resources/cases/civil/caa/bp-whiting.html
More about EPA's civil enforcement of the Clean Air Act: http://www.epa.gov/compliance/civil/caa/index.html
CONTACT:
Stacy Kika
kika.stacy@epa.gov
202-564-0906
202-564-4355
Fla. Gov. Started Push To Remove Voters From Rolls
By Gary Fineout, Associated Press on 05/24/2012 @ 01:25 AM
TALLAHASSEE, Fla. -- Florida's quest to identify and remove non-U.S. citizens from the voter rolls was started at the direct urging of Gov. Rick Scott, the state's former top elections official said.
Ex-Secretary of State Kurt Browning, who resigned this year, told The Associated Press that Scott asked him whether or not non-U.S. citizens were registered and if those people were voting. Browning explained to the governor during a face-to-face meeting last year that people who register and falsely claim they are citizens can be charged with a crime.
"He says to me - well, people lie," Browning recalled this week. "Yes, people do. But we have always had to err on the side of the voter."
Browning said the conversation prompted state election officials to begin working to identify non-U.S. citizens. The state's initial list - compiled by comparing driver's licenses with voter registration data - showed that as many as 182,000 registered voters were eligible to be in the country but ineligible to vote.
But Browning said he decided against telling local election supervisors right away because he wanted to make sure the information was accurate in order to avoid a "firestorm of press" and criticism. Florida then spent months trying to get access to a federal database that tracks non-U.S. citizens in the country, but the U.S. Department of Homeland Security would not allow it.
"We were not confident enough about the information for this secretary to hang his hat on it," said Browning, who resigned after the Jan. 31 presidential preference primary.
Browning said media reports earlier this year that raised questions whether non-U.S. citizens were on the rolls required the state to keep pushing ahead with the effort.
In the last few weeks, the state sent a list to county election supervisors of more than 2,600 people who have been identified as non-U.S. citizens. Supervisors have responded warily to the list and have pointed out that it has inaccuracies.
Read more here.
Discovering Leadership through Empowerment and Resiliency: The process of rebuilding and recovering from the killings of my mother and twelve-year-old brother
By on 05/07/2012 @ 10:56 AM
When I watched my mother, Jacqueline Kellibrew, and twelve-year-old brother, Anthony, get murdered in the living room of our home at the age of ten, I felt it to be the end of the world. The killer took his own life, but not before having me beg for my life while staring down the barrel of his black handgun. Completely traumatized, I didn't know what to expect on the long journey ahead, and the barriers I faced were immense and often traumatic and re-victimizing. As a victim-turned-survivor, I struggled to find my voice, and eventually found comfort in doing my part to cultivate leadership in the African American community utilizing the tools of empowerment and resiliency.
The Barriers
July 2, 1984, will replay vividly in my mind for as long as I live. That fateful day, I lost my dignity, pride, self-respect, and ultimately, my childhood leader, protector and nurturer—my mom. My family didn't just loose a hero—our way of life had been destroyed. The trauma was silencing and the grief isolating.

Disturbingly, it got worse for me. I fell into a deep and dark depression. I couldn't deal with the pain anymore and on one school morning at age thirteen I decided to take my own life. I came upon a bridge…but quickly decided to give William another chance at life and avoided jumping.
Instead, I went to school. I confided in my assistant principal, Mr. Charles C. Christian, by telling him I didn't want to live anymore. He called my grandmother to arrange an emergency session with a social worker at Children's Hospital National Medical Center. Ms. Christine Pierre became my first ever therapist and would literally be responsible for helping to save my life. It was the first time I would seriously open up about the murders of my mother and brother. It was also the first step on the road to recovery from a childhood filled with multiple traumas which included child sexual assault. With extreme exposure to violence and victimization the barriers were set, and I would have to jump hurdle after hurdle on my road to recovery.
Click here to read more.

Currently reading page 2 of 8.