Blog
Special Guest - Bow Wow!!!
By William Kellibrew on 10/02/2008 @ 06:37 PM
This is William again with Black Youth Vote! I have a special guest with me. Actually, I am his guest. We are on his tour bus as a part of his Walk Across America Tour. We just left Claflin University and South Carolina State University where Bow Wow walked both campuses to influence his peers to register to vote, protect their vote by understanding the laws and then Vote! So, I will proceed with a brief discussion with Bow Wow.
William: First Bow, how do you feel about what you are doing to influence your peers?
Bow Wow: I feel really good and I feel like this is something I should really be doing because I am a voice and a leader for youth; therefore, I am taking initiative to take on the responsibility. This is coming from the heart.
William: As I travel with you I have really been amazed at how receptive your fans are. They have really come out to support you. Have you been surprised about the outpouring of support you have received?
Bow Wow: Crazy! Lot of fun going to these universities. Turnouts have been massive, students are grabbing hold to every word I am saying. The reaction on the campus, students and others showing a lot of love - definitely taking all my advice in. It's just been a very humbling and exciting experience talking with my peers. We are going to keep on rocking and rolling along the journey.
William: I just have one more question, Bow, since I like to keep these blogs pretty short and sweet. What is one thing that you want your fans and those who you influence to remember about you as you travel the country on your Walk Across America Tour?
Bow Wow: That Bow Wow took the time out of his schedule to think about us and to share his opinion. It shows that he really cares. It's not just about the movies and music, but making a difference. This is my own dime and my own time with the help of organizations like Black Youth Vote and Declare Yourself. Go Vote!!!
William: Thanks a lot for the exclusive interview. I am privileged to be sitting here with you on this historic movement. Brother, you are definitely keeping it real and doing the right thing. Let's keep it moving.


Ride Through America to Walk Across America with Bow Wow
By William Kellibrew on 10/02/2008 @ 06:37 PM
It's Will Kellibrew again. Obviously, some of this trip we cannot walk. We had a pretty good ride so far. We left Atlanta, Georgia around 1:00 a.m. and we are moving right up the road. Now, we are in Raleigh, North Carolina with the Bow Wow team. Bow just happens to be slightly sleep right now, but getting rest because Philly is going to be simply busy. A few minutes ago, a few of us woke up to the morning cold that has seeped its way onto the bus. But, that wont stop us. This will be our third city where Bow is working hard to spread the message about the importance of voter registration as well as Getting Out The Vote (G.O.T.V.).
I was wondering how Bow became so informed about what is happening in our country though and why he is so passionate about his Walk Across America. What makes someone want to walk across this country when he can put his message out there in so many other ways? Well, one good reason is CNN has been on all night long. We have been listening to the political pundits and reporters assess the vice presidential debate. At 21, he realizes that now more than ever, who we elect as our leaders will actually affect our lives in some way. How do I know? Well, he talks about it constantly. He is concerned. Bow Wow actually informed his manager one day that he wanted to make a difference in this election. He proposed to walk across America and that's all his manager Michael Mauldin needed to hear. Michael ran with Bow Wow's vision and here we are just a few weeks later - Walking Across America.
We will see you in Philly soon and thanks for tuning in. I will be sure to keep you updated with the trip. Bow Wow will definitely be giving updates not only on this blog, but on his website, www.princebow.com.
For more information about this election go to our Election Center at www.ncbcp.org and get more civicly engaged by understanding your vote. Again, see you soon in Philly. We are out!


Let the Walk Begin
By William Kellibrew on 10/01/2008 @ 06:37 PM
Today is the first leg of Bow Wow's Walk Across America Voter Registration Initiative. He will begin his walk in Atlanta, GA on October 1st, Walk Across America will take Bow Wow and other citizens who are excited about the 2008 elections to cities across the United States in an effort to encourage people, especially the youth, to participate in the contests happening this November and the political process overall. For more information go to Bow Wow's website www.bowwow87.com.


Black Youth Vote! Walks With Bow Wow
By William Kellibrew on 10/01/2008 @ 06:37 PM
Wow! What a turn out! Black Youth Vote! Georgia knows how to organize. I must say that I was truly impressed with LaTosha and Helen for turning up the heat and mobilizing here in Atlanta. This is my first time organizing on this level for any election. These veterans showed me a thing or two. My hat goes off to them. For those who do not know, LaTosha and Helen represent the National Coalition on Black Civic Participation in Atlanta. Black Youth Vote! is an amazing program within the Coalition. We could not do what we do without being a coalition. (For more information on the coalition go to www.ncbcp.org. Don't forget to visit our Election Center.)
Bow Wow & Sharon in Atlanta - Election 2008
Kicking off the Walk Across America Voter Registration Initiative was definitely "hot". Black Youth Vote! young volunteers showed up in great numbers ready to walk. Everyone was anticipating Bow Wow to show up at any moment. There he was, across the street, on the horizon. Pretty cool. He did a few television and radio interviews and then the walk began.
We made stops at Georgia State led by Grace, a student, who showed us where the student hot spots were. It was pretty amazing to see folks being registered there. Grace grabbed the megaphone and just started chanting and encouraging students to register to vote. Bow Wow sat on a railing and just talked to students as if he attended the institution. It didn't take long for students to come over and get involved. We left on the next leg of our trip.
We stopped through to Georgia Tech where Matt led us through the campus. It was a huge campus and we lost our police escort. So, naturally, we used the bullhorn to make siren sounds. We met up with our escort again and Bow Wow thought of something cool - tacos. We ate tacos and chips along the way. We finished at the CNN Center where we began about eight miles earlier. We were off to Clark Atlanta from there.
By later afternoon, Clark Atlanta, Morehouse and Spelman were "jumpin". Jordan met us at the corner of MLK and James P Brawley Drive. Bow Wow did his usual - interviews. He let the public know that he was walking to bring awareness to the issues in our country as well as encourage voter registration and the importance of voting early. Georgians were voting yesterday in an amazing move to vote early.
Bow Wow in Atlanta - Election 2008
The walk through Clark Atlanta was definitely memorable. Students received Bow Wow extremely well. This walk was the slowest. With so many people interested in his cause, we could hardly walk fast. We arrived at Morehouse to attend Hump Wednesdays - where students from all three schools were gathered to listen to a DJ spin and get valuable information about upcoming events, etc. It was time to introduce Bow Wow, so Michael instructed me to grab the mic and get the party started. For those who do not know, Michael is truly the hardest working man in the business. What business? Any business. My hat goes of to Michael Mauldin too and Billie Bragg is not far behind him.
We gave a shout out to CASA, an activities group responsible for putting on the event every Wednesday. It was great seeing the comraderie and a good friend Christian Perry who heads up the event.
After talking about Declare Yourself and Black Youth Vote! it was time to introduce the guy with the vision - Bow Wow. This guy is totally humble. He doesn't want to take credit or disrupt the party. He simply wants to bring awareness. We can all respect that. He sat behind me and told me to let everybody know that we just finished walking eight miles. That was important. We just did not show up at the AUCenter without putting in some work. Bow Wow grabbed the mic, spoke about his message and stayed around for an informal dance competition or showcase. After a few photos taken with CASA and a few high school students who walked with him, we were off.
The excitement for the day was great. We looked back on the day with a complete smile, but definitely eight miles later we were all exhausted. I can speak for myself. But, I would not have changed one thing about yesterday. See you in South Carolina as we visit Claflin and South Carolina State University.


Bow Wow Partners with Black Youth Vote!
By William Kellibrew on 09/29/2008 @ 06:37 PM
Alright BYV! This is my first post. I will keep it short and sweet. This is Will Kellibrew, your brand new BYV! National Coordinator. Special thanks to Melanie and Lisa for bringing me on board to serve the ultimate cause - influencing our youth ages 18 - 35 to make a difference by registering to vote, protecting their vote and voting on Election Day 2008 and Beyond!
Today, Atlanta could not be more beautiful. Bow Wow is preparing for his Walk Across America to bring awareness to the importance of voting. His Walk focuses on voter registration and BYV! is right there to lend a helping hand. Our BYV! Coordinators will be assisting the efforts by mobilizing our teams in each state Bow visits and registering our youth to vote as they gear up for Election 2008.
Thanks to Bow, we are now partners in this amazing effort. You can be a part of the action by making sure that you are registered. Visit www.ncbcp.org and go to our Election Center where you will be able to register on the national federal registration form. It's time to be counted!!!
Just a little history - Bow made an announcement on CNN yesterday morning that he will be walking in a multitude of states to bring awareness to the importance of voting. BYV! will be registering young people to vote at each stop. Bow will start at the CNN Center in Atlanta, Georgia at approximately 12 Noon on Wednesday, 1 October, 2008 and walk until he reaches the AU Center - Clark Atlanta University and Morehouse where BYV! will be on hand to get people registered to vote. He will be making stops in Columbia, South Carolina, Philly, Richmond, Virginia, Mobile, Alabama, Nashville, Tennessee, New York and a host of other cities.
Join BYV! along the trail. Perhaps we will have a special guest blogging along the trail. You never know. Stay tuned!


Indiana Upholds Photo ID Law....
By William Kellibrew on 04/28/2008 @ 06:37 PM
Supreme Court upholds photo ID law for voters in Indiana By MARK SHERMAN – 51 minutes ago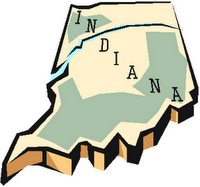 WASHINGTON (AP) — The Supreme Court ruled Monday that states can require voters to produce photo identification without violating their constitutional rights, validating Republican-inspired voter ID laws.
In a splintered 6-3 ruling, the court upheld Indiana's strict photo ID requirement, which Democrats and civil rights groups said would deter poor, older and minority voters from casting ballots. Its backers said it was needed to prevent fraud.
It was the most important voting rights case since the Bush v. Gore dispute that sealed the 2000 election for George W. Bush. But the voter ID ruling lacked the conservative-liberal split that marked the 2000 case.
The law "is amply justified by the valid interest in protecting 'the integrity and reliability of the electoral process,'" Justice John Paul Stevens said in an opinion that was joined by Chief Justice John Roberts and Anthony Kennedy. Stevens was a dissenter in Bush v. Gore in 2000.
Justices Samuel Alito, Antonin Scalia and Clarence Thomas also agreed with the outcome, but wrote separately.
Justices Stephen Breyer, Ruth Bader Ginsburg and David Souter dissented, just as they did in 2000.
More than 20 states require some form of identification at the polls. Courts have upheld voter ID laws in Arizona, Georgia and Michigan, but struck down Missouri's. Monday's decision comes a week before Indiana's presidential primary.
The decision also could spur efforts to pass similar laws in other states.
Ken Falk, legal director of the American Civil Liberties Union of Indiana, said he hadn't reviewed the decision, but he was "extremely disappointed" by it. Falk has said voter ID laws inhibit voting, and a person's right to vote "is the most important right." The ACLU brought the case on behalf of Indiana voters.
The case concerned a state law, passed in 2005, that was backed by Republicans as a way to deter voter fraud. Democrats and civil rights groups opposed the law as unconstitutional and called it a thinly veiled effort to discourage elderly, poor and minority voters — those most likely to lack proper ID and who tend to vote for Democrats.
There is little history in Indiana of either in-person voter fraud — of the sort the law was designed to thwart — or voters being inconvenienced by the law's requirements. For the overwhelming majority of voters, an Indiana driver license serves as the identification.
"We cannot conclude that the statute imposes 'excessively burdensome requirements' on any class of voters," Stevens said.
Stevens' opinion suggests that the outcome could be different in a state where voters could provide evidence that their rights had been impaired.
But in dissent, Souter said Indiana's voter ID law "threatens to impose nontrivial burdens on the voting rights of tens of thousands of the state's citizens."
Scalia, favoring a broader ruling in defense of voter ID laws, said, "The universally applicable requirements of Indiana's voter-identification law are eminently reasonable. The burden of acquiring, possessing and showing a free photo identification is simply not severe, because it does not 'even represent a significant increase over the usual burdens of voting.'"
Stevens said the partisan divide in Indiana, as well as elsewhere, was noteworthy. But he said that preventing fraud and inspiring voter confidence were legitimate goals of the law, regardless of who backed or opposed it.
Indiana provides IDs free of charge to the poor and allows voters who lack photo ID to cast a provisional ballot and then show up within 10 days at their county courthouse to produce identification or otherwise attest to their identity.
Stevens said these provisions also help reduce the burden on people who lack driver licenses.


Philly event on Sunday brought Hip Hop folks out
By William Kellibrew on 04/23/2008 @ 06:37 PM
Rap power to vote

By DAMON C. WILLIAMS
Philadelphia Daily News
williadc@phillynews.com
215-854-5924
JUST AS THE MTV generation helped rock the vote two decades ago, organizers of yesterday's "National Hip-Hop Team Vote Campaign" hope the rap generation has the same impact on the current political landscape. The Hip-Hop Summit Action Network, which has led youth voter drives in the city before, hopes to pull at least 10,000 new voters into this year's election by way of an event yesterday in North Philadelphia's Liacouras Center as well as others like it throughout the country.
"Two days before the Pennsylvania primary, there is no better place to be," said Dr. Benjamin Chavis, co-chairman of HSAN. "Philadelphia's young people are into hip-hop, and they feel the media hasn't paid too much attention to them."
"Young people want to get out of poverty, and they want more access to getting a good education," Chavis said. "Hip-hop has brought back that entrepreneurial spirit, with the Jay-Z's and Diddy's of the world, and the way for these young people to get money is through their vote."
But it's one thing to have a mission; it's an entirely different matter to get young people to come out to hear it. So to that end, HSAN invited many of today's best-known celebrities - rappers T.I. and Flo-Rida, BET host Terrance J and newcomer O'Neal Alexander, to name a few - to perform and offer comments, hoping that their presence and words will leave an impression on the minds of young voters.
"I want to encourage the youth to take advantage of the opportunity to vote," T.I. said. "We already know where not voting gets us, and a lot of people don't take the time to vote."
"If you give up your right to vote, you also give up your right to complain," T.I. continued. "This is the most important election in hip-hop's lifetime."
T.I., a rapper who has dug himself out of a recent arrest on gun charges, said he is hoping to rehabilitate his image.
Chavis thought it a good idea that T.I. is on board with this effort.
"T.I. has gone through a lot of trials and tribulations, and he's someone the streets look up to," Chavis said. "Street cred in hip-hop is real, and T.I. has that. He's willing to say, 'I made those mistakes, and God has given me another opportunity to go on the right path.' "


Currently reading page 8 of 8.