Blog
Sherman Justice Speech for March Against Police Brutality
By Sherman Justice Black Youth Vote! on 12/13/2014 @ 03:40 PM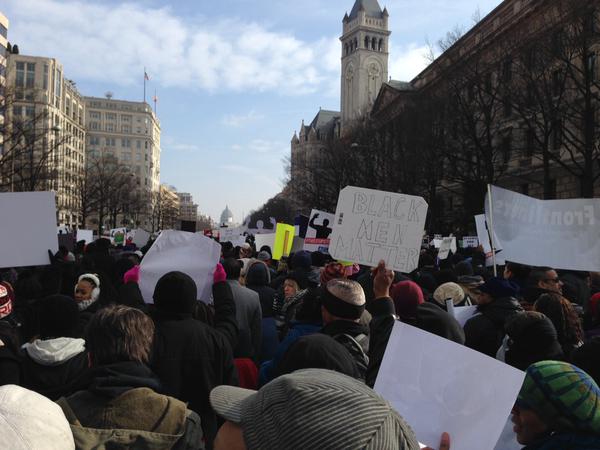 Black Youth Vote fellow, Sherman Justice, made the following remarks at the recent "Justice for All" march calling for Congress to pass legislation on police brutality in the wake of the recent murders of Mike Brown, Eric Garner, Akai Gurley, Tamir Rice, and many others.
"My name is Sherman Justice and I serve as the BYV! Fellow for the National Coalition on Black Civic Participation. today I am here to march with the families who have lost love ones at the hands of police and a broken system that unjustly targets black and brown people. I first want to thank the families of the victims for their God giving strength to fight for justice! I will also like to lift up the young people of ferguson for their resistance and commitment you have awaken our generation to realize we are not in a post racial society and indeed racism is alive and well.
"It is important that we use today to march and lift our collective voices, while remembering that we have to return to our homes and continue the good fight. There is a Ferguson in every state in America and you don't have to look far to find yours. this last election in St. Louis County the same prosecutor in Michael Brown's case ran & won unopposed! This cannot continue to happen in our cities, we have to register our people to vote, Run for office and be educated on the issues that impact our communities.
"Our time is now just look at New York, Berkeley, Ohio, Chicago and we just getting started. We will fight and We will win!!!! hands up!!!!!"