News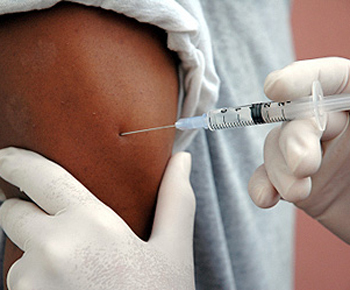 Washington, D.C. -- African Americans are the largest number of populations, nationwide, who are unvaccinated against the flu. The Assembly of Petworth, a District collaborative that uses grassroots strategies to address critical health issues impacting African Americans, Hispanics, and other ethnic groups suffering health disparities, has joined with the D.C. Department of Health, United Planning Organization, and the National Coalition on Black Civic Participation to host a press conference, from 11 a.m. to 12 noon on Friday, Dec. 2 to mark National Influenza Vaccination Week (NIVW), December 4-10.
The press conference and a mini-free flu vaccination clinic, that runs from 12 noon to 3 p.m., will occur at the United Planning Organization "Petey" Greene Community Service Center, 2907 Martin Luther King Ave. in Southeast.
A diverse group of experts, including Dr. Mohammad Akhter, director, D.C. Department of Health, Dr. Yabo Beysolow, medical officer, CDC, and Diane Freeman, aging services specialist, Department of Health and Human Services, will highlight the importance of continuing the flu vaccination through the holiday season and beyond.
Socio-economic indicators show Ward 8, where the Petey Greene Center is located, as having major African American health challenges and high death rates. "Influenza is among the top ten causes of death in a population where certain long-term medical conditions, including asthma, diabetes, heart disease, neurological conditions, obesity, HIV or AIDS, and cancer, to name some diseases, have become norm," says Ray Michael Bridgewater, Assembly of Petworth founder.
Experts will discuss the impact the flu has on individuals with chronic illnesses as well as young children and the elderly. "No doubt it takes each of us, working collaboratively, to change current health conditions that plague our community. This is the first campaign of its kind, and the time is now for such a bold initiative," Bridgwater concludes.
The D.C. campaign is one of 15 across the country, targeting African Americans, and using grassroots engagement. The campaign is the Centers for Disease Control's response to a growing health issue among at-risk populations. Other sites where mini-flu clinics will occur in December will be announced later.
For additional information on the press conference, free vaccinations, or the campaign, contact Ray Michael Bridgewater at 202-882-5782 or Delores Millhouse, UPO, at 202-238-4719.