NCBCP Headlines
Traditionally, African Americans and Latinos worked and lived alongside each other in urban areas, and despite some tensions in the past, those old beefs have given way to more political unions. Nowadays, you will likely see a Civil Rights leader such as Rev. Al Sharpton, marching in an immigrants' rights demonstration, as well as protesting police brutality. And in the Deep South, black leaders collaborate with Latino activists to protest harsh immigration laws.
According to The Nation writer David Bacon, a black brown coalition managed to halt anti-immigration legislation in Mississippi. "From the opening of the legislative session just after New Years, the state's Legislative Black Caucus fought a dogged rearguard war in the House. Over the last decade, the caucus acquired a hard-won expertise on immigration, defeating over 200 anti-immigrant measures."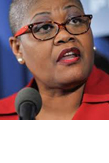 Melanie Campbell, CEO of the National Coalition on Black Civic Participation based in Washington, DC
Melanie Campbell, president and CEO of the National Coalition on Black Civic Participation based in Washington, D.C., said her organization actively works with several Black-Latino joint ventures at both the state and the local level.
Campbell said the most recent effort included the Afro-Latino Forum in New York, which urged people to participate in the 2010 census. She added that her organization is also involved with redistricting issues in Texas, and voter rights issues in Florida, and Texas. The Coalition on Black Civic Participation also worked with the Lawyers' Committee for Civil Rights Under the Law as part of the Election Protection Coalition, which fought against election fraud and voter-intimidation tactics aimed at blacks and Latinos. According to Campbell, both communities need to work together to solve common problems.
"We may have gotten here different ways, but we both want to fight for justice," Campbell said. As a second-generation activist who grew up in Mims, Florida, she became aware of some of the issues facing immigrants because of a local migrant camp, where both Latino and black (Caribbean) workers lived.
Campbell pointed out that black issues often intertwine with Latino issues, especially since large black populations live in Latin America. However, she said sometimes language is a barrier that keeps the two communities apart.
Economic justice, civil rights, voting rights, and the criminal justice system are all issues both black and Latino communities share. According to the Bureau of Labor Statistics, the black unemployment rate is around 14 percent, and the Latino unemployment rate is 10 percent, but still higher than white unemployment at around 8 percent. According to figures from the Sentencing Project, "one in 10 (10.4 percent) black males aged 25-29 was in prison or jail in 2007 as were 1 in 28 (3.6 percent) Hispanic males and 1 in 59 (1.7 percent) white males in the same age group."
Although many see Latinos as the swing vote in the November election, Campbell is concerned about other electoral issues such as money in politics. "Every vote counts, it's about who is able to motivate their people," Campbell said. "We can't be distracted by money."

Read the original article here.