Press Releases
All Media inquires, please contact:
Angelo Greco at (917) 499-2688  angelo@trillmulticultural.com
Lon Walls at (301) 996-1669  lwalls@wallscomm.com
Tyrice Johnson at (205) 643-4755  newmedia@ncbcp.org
Feb 14, 2011
Hundreds of Women and Girls From 8 – 90 Years Young and Older Attend "Healthy, Wealthy & Wise" National Empowerment Tour Events
All media inquiries, please contact Edrea Davis by email, or (818)613-9521.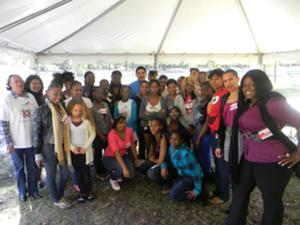 the group at an event...
Daytona Beach and Mims, Florida – February 8, 2011 – Hundreds of women and girls ages 8 to 90 joined the Florida Coalition on Black Civic Participation, an affiliate of the National Coalition on Black Civic Participation (The National Coalition or NCBCP) in its initiative, the Black Women's Roundtable (BWR) "Healthy, Wealthy, &Wise" National Empowerment Tour at two historical sites in Daytona Beach (Bethune-Cookman University) and Mims, Florida (Harry T. & Harriette V. Moore Memorial Park) on February 4-5, 2011.
"We chose the campus of Bethune-Cookman University and the Harry T. & Harriette Moore Memorial Park for its historic value" added Salandra Hanna, Convener, Florida Coalition on Black Civic Participation, NCBCP "…and that these two locations serve as a reminder of the Civil Rights struggles as we celebrate Black History Month and empower women and girls to truly live healthier, wealthier and wiser lives."
Nearly 400 women and girls in both locations were joined by Melanie L. Campbell, President & CEO and Convener, Black Women's Roundtable, NCBCP; Dr. Joe Leonard, Assistant Secretary, Civil Rights Division, U.S. Department of Agriculture, Ericka Dunlap, 2004 Miss America and National Television Personality; Mary Ann Epps, Brigadier General (Retired); Michele Jones, Special Assistant and Senior Advisor to the Under Secretary of Defense, Special Detail, OPM President's Veterans Employment Initiative and First Lady's Military Families Initiative; Dr. Ruth Plummer, Founder & CEO, Free Spirit Evangelistic Outreach Ministries, Inc.; Cris LaNiese Robinson, President, Delta Sigma Theta Sorority – Bethune-Cookman University Campus; Attorney Diedre Sibley, Member, District Board of Trustees, Brevard County Community College; Carol Thompson, Former Co-Chair, Haiti Solidarity Committee and Consultant, Sustainable Organic Integrated Livelihoods; Dr. Authrine C. Whyte, MD., Family Practitioner, Titusville Family Practice Center and many others (see www.ncbcp.org for full agenda).
To view this video, you will need to install the Flash Player and turn Javascript on.
At Bethune-Cookman University, women and university students addressed topics including: Sisters Can We Talk- Ending Violence Against Women & Girls, From the Breast to the Heart- Improving Her Health So She Can Live, and You're Worth The Dollar- Jobs, Money and Wealth in the New Global High-Tech Economy.
At the Harry T. & Harriette V. Moore Memorial Park, Black women, girls and veterans came together to participate in a Health & Wellness Walk, Mini-Expo and Intergenerational Listening Sessions about health, wealth, and other topics. The Walk focused on ending Cancer and HIV/AIDS. Throughout the day tours of the Moore Replica Home where Harry T. Moore and his wife, Harriette, were bombed on Christmas Day in 1951 were guided by museum staff, Juanita Barton.
"I was so grateful to return to my hometown to help improve the lives of women and girls where I grew up. For Black women heart disease, cancer, stroke, diabetes, and kidney disease are the leading causes of death," remarked Melanie L. Campbell, president & CEO, Convener of Black Women's Roundtable, NCBCP. "Black women are almost twice as likely to have diabetes and have more than 21 times the AIDS rate of white females. According to the CDC, 39% of Black women and 1 in 7 low income preschool children are obese which the Surgeon General reports a link to heart disease and 1 out of 4 women will experience domestic violence in her lifetime. On this tour and beyond, we believe this is a prime opportunity to bring more attention and empower women and girls to live their best lives."
As a follow-up to the workshops, listening sessions and dialogues, the women who attended committed to establishing quarterly sessions to dig deeper into the issues affecting women and girls and continuing the important work of sustaining a network in their local area.
The Black Women's Roundtable Empowerment Tour will hit six (6) states and the District of Columbia over the next several months. In all, the BWR Tour will provide over 10,000 Black and underserved women and girls with tools that help them to live healthier achieve economic security and sustainability, be empowered through educational and training opportunities, and access affordable technology to compete in a global economy.
---
BWR Tour National and Local Partners in Florida include: Florida Coalition on Black Civic Participation, A. Philip Randolph Institute, AFL-CIO/Space Coast, AFSCME Florida council 79/Local 3040, Al Sweeney's Auto Repair, Inc., Black Women's Health Imperative, Brevard County Parks and Recreation, Chef Larry's, Community Educators Credit Union, Coalition of Black Trade Unionists, Congressional Black Caucus Foundation, Deep South Center for Environment, Delta Sigma Theta Sorority, Inc., Florida Black Youth Vote!, Housing Authority of Brevard County, JCPenney, Jess Parrish Medical Foundation, Jobs Automotive Inc., Justice, Kennedy Space Center Credit Union, Lewis-Ray Mortuary, National Center for Victims of Crime, National Council of Negro Women, Nancy Mitchell Salon, Operation Hope, Space Coast Credit Union, Target, The Praxis Project, Today's Nails, Wal-Mart and The William Kellibrew Foundation (Partial Listing).
The NCBCP BWR National Empowerment Tour is made possible by the generous support of the W.F. Kellogg Foundation. Established in 1930, the W.K. Kellogg Foundation supports children, families and communities as they strengthen and create conditions that propel vulnerable children to achieve success as individuals and as contributors to the larger society. Grants are concentrated in the United States, Latin America and the Caribbean, and southern Africa.
BWR Tour sponsors include: AT & T, Verizon Foundation and the U. S. Department of Agriculture. Additional BWR Empowerment Tour cities include: Mobile, AL; Greenville & Gulfport/Biloxi, MS; Daytona Beach & Mims, FL; Atlanta, GA; Pittsburgh/Mon Valley, PA; Spring Lake, NC; Detroit & Kalamazoo, MI; and a final national convening in Washington, DC.