Press Releases
All Media inquires, please contact:
Angelo Greco at (917) 499-2688  angelo@trillmulticultural.com
Lon Walls at (301) 996-1669  lwalls@wallscomm.com
Tyrice Johnson at (205) 643-4755  newmedia@ncbcp.org
May 18, 2023
MARKING THREE YEARS SINCE GEORGE FLOYD'S MURDER, LEGACY CIVIL RIGHTS LEADERS URGE PASSAGE OF HIS NAMESAKE JUSTICE IN POLICING ACT TO BRING ACCOUNTABILITY TO LAW ENFORCEMENT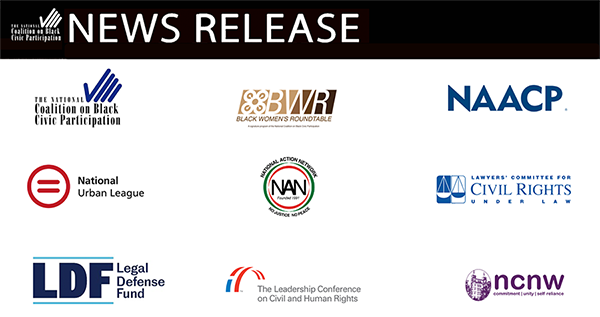 National Urban League, National Action Network, NAACP, National Coalition on Black Civic Participation, Lawyers' Committee for Civil Rights Under Law, NAACP Legal Defense and Educational Fund, Inc. (LDF), The Leadership Conference on Civil and Human Rights, and National Council of Negro Women: "We need police accountability and demand that Congress pass the George Floyd Justice in Policing Act now."
WASHINGTON, D.C. (May 18, 2023) – As the three-year anniversary of George Floyd's death approaches, leaders of the nation's Black-led legacy civil rights organizations condemned Congress' failure to advance legislation to bring accountability to law enforcement.
"Time and again, we've seen Black and Brown communities devastated by police tragedies and the officers involved are rarely held accountable for their actions," said Marc H. Morial, President and CEO of the National Urban League. "Our reform efforts must focus on police accountability and restoring community trust. The violent tactics we've seen used in situations that did not warrant them run counter to proper police training methods and deepen the distrust between communities and the police. The National Urban League's Toward a New Age of Community Safety report, released last week, outlines community-led prevention systems that replace the traditional police response. Had Congress leaned more into these alternative methods, tragedies like George Floyd's murder would not have happened. Congress has a responsibility to prioritize the safety and security of communities across this country; they can and must do so by passing the George Floyd Justice in Policing Act."
"This nation needs a clear, standard policy for police accountability, which is why it's so important Congress finally pass the George Floyd Justice in Policing Act," said Rev. Al Sharpton, Founder and President of the National Action Network (NAN). "While we continue to reel from the horrific police killing of Tyre Nichols earlier this year, there are those out here looking to give cops who abuse their trust more protections. We owe it to Tyre, to George Floyd, and to the thousands of Black and Brown Americans killed by police who use their power to take action. It's been three years since I eulogized George, and we have worked with his family to make sure his death was not in vain. We have been promised reforms since 2020 and we cannot wait until Congress Members need our votes in 2024 to get action."
"Our nation is in dire need of police accountability and a standardized policy that ensures justice and fairness," stated Melanie Campbell, President and CEO of The National Coalition on Black Civic Participation and Convener of The Black Women's Roundtable. "The excessive use of violent tactics, inconsistent with proper police training, only serves to deepen the already existing distrust between communities and law enforcement. With the rise of white nationalism, it is crucial that we reimagine public safety to ensure that Black and brown communities receive the safety and justice they have been historically denied since the founding of this country. It is clear that there is a direct correlation between voting rights, political power and police accountability. By passing the George Floyd Justice in Policing Act, Congress can take a significant step towards dismantling systemic racism and creating a more just society for all."
"As we approach the third anniversary of George Floyd's death, police accountability remains a top priority. While law enforcement remembers their fallen this week, Black families across America are forced to grieve the brothers and sisters in their communities that have fallen at the hands of a broken system," said Derrick Johnson, President & CEO, NAACP. "History has proven that more police does not equate to safer streets. If police officers are to truly 'protect and serve' all communities, fundamental change is crucial. That's why the NAACP continues to urge Congress to pass the George Floyd Justice in Policing Act in service of the countless Black people and communities who continue to be terrorized by law enforcement. Innocent lives are at risk and imminent action is a must."
"In the three years since the murder of George Floyd, we have seen no changes in federal law to require police accountability. Instead, we have seen a 10-year peak in police-caused fatalities with minimal accountability," said Damon Hewitt, President and Executive Director of the Lawyers' Committee for Civil Rights Under Law. "Our advocacy has made plain that democracy absent police accountability isn't democracy for all, or democracy at all. Yet, America takes its time delivering even a semblance of justice to Black and Brown people who have spilled their blood, sweat, and tears to make democracy real for everyone. This was true of ending slavery, of ending Jim Crow, and even for passing the first federal anti-lynching legislation, which took over 100 years. Our families cannot wait a century or more to pass police accountability legislation. We deserve the dignity to live in peace, without fear that a traffic stop or other encounter with the police will result in violence or death. We urge Congress to pass the George Floyd Justice in Policing Act to begin helping us build the safe and just future we deserve.
"The tragic police killing of unarmed Black men and women, continues to tell the story of the urgent need for universal training standards and a reinvestment in community practices that will help yield appropriate standards of policing. These necessary standards foster systemic unbiased practices that ensure officers are equipped to protect and serve our nation's citizens regardless of race, color, creed, or location," said Rev. Shavon Arline-Bradley, President and CEO of NCNW." It is evident that we can no longer afford to wait on local and state agencies to create sustainable reform policies that protect all citizens from the abuses of rogue police officers. It is imperative for Congress to take swift action to pass the George Floyd Justice in Policing Act, which will guarantee law enforcement agencies across the country remain consistent and committed to fair and equitable policing practices. Only then can we begin to instill the community's trust in our officers and bridge the gap between law enforcement and people of color."
"Nearly three years ago, George Floyd was brutally murdered by the police," said Maya Wiley, President and CEO of The Leadership Conference on Civil and Human Rights. "We saw the video, we marched, and we committed to a simple truth: George Floyd's murder must not be in vain. Despite the efforts of families of victims of police violence and the public protests, Congress has not yet passed comprehensive legislation to reform policing. Congress must finish the work it started in the name of George Floyd. Policymakers at every level must push for meaningful, comprehensive change that holds law enforcement accountable for misconduct, transforms our public safety system, and shrinks the footprint of the criminal-legal system in Black and Brown people's lives."
"Since George Floyd was heinously murdered nearly three years ago, it is estimated that over 1,000 Black and Brown people have been fatally shot by police, and many others have lost their lives to other brutal police violence, including Tyre Nichols earlier this year. Systems of public safety must be data-informed and designed to keep communities safe while respecting their dignity and humanity," said Janai S. Nelson, President and Director-Counsel of the Legal Defense Fund (LDF). "Our current law enforcement system of state-sanctioned violence that over-relies on criminalization and incarceration has not reliably or sustainably improved public safety, and it inflicts generational harm on targeted communities of color. LDF has issued a Framework for Public Safety that encourages policymakers to invest in proven solutions to violence and in the well-being of impacted communities. In the near-term, while increased accountability for officer misconduct—as found in the George Floyd Justice in Policing Act—cannot bring loved ones back and does not fully remedy the harm caused by police violence, it is necessary to seek justice for these harms as we build a new system to eliminate them."