Press Releases
All Media inquires, please contact:
Angelo Greco at (917) 499-2688  angelo@trillmulticultural.com
Lon Walls at (301) 996-1669  lwalls@wallscomm.com
Tyrice Johnson at (205) 643-4755  newmedia@ncbcp.org
Dec 11, 2012
NCBCP Black Women's Roundtable Stands with Michigan Workers in their Fight Against Anti-Worker Legislation Recently Passed in Michigan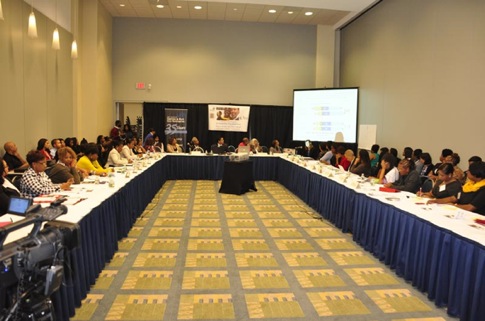 The National Coalition on Black Civic Participation's (NCBCP) Black Women's Roundtable issued the following comments in support of Michigan workers and families currently under attack by politicians determined to revoke workers' right to organize and bargain collectively:
"The Black Women's Roundtable stands in solidarity with our Michigan Black Women's Roundtable leaders, working families, labor, faith and all communities of conscience, in their fight for the rights of workers to organize as an American value in the state of Michigan and across the country, said Melanie L. Campbell, convener, Black Women's Roundtable and president and CEO of NCBCP adds, "Strong unions result in better jobs, a stronger economy, and a healthier community. The assault on Michigan's working families will drive wages down and increase the income gap, especially for women, young workers and people of color."
Danielle Atkinson, convener of Detroit Black Women's Roundtable and executive director, Mothering Justice adds, "This issue is about having a voice in the workplace so we can take care of our families at home. We stand united in the effort to stop these divisive attacks on hardworking American's who are not asking for handouts, we are merely trying to make a livable wage that enables us to provide a decent living for our family."
"We will continue to stand united with Michigan working families and the coalition of labor, faith, and progressive groups fighting against the assault on the American middle class," adds Stephanie Bell, convener, Kalamazoo MI Black Women's Roundtable. "This type of legislation in Michigan of all places - the birthplace of the American labor movement - will have far-reaching ramifications across the country. We urge the American public to show your support by calling Michigan Governor Rick Snyder and urge him to veto the "Right-to-Work" law."
The NCBCP Black Women's Roundtable comprises an intergenerational membership of Black women civic leaders of international, national, regional and state-based organizations and institutions that works collectively to advance policies and strategic initiatives that help to improve the lives of underserved women and girls.
Follow @WeAreMichigan on Twitter for live updates Tweet using the hashtag #savemi
Read more here: http://www.sacbee.com/2012/12/11/5047618/ncbcp-black-womens-roundtable.html#storylink=cpy