What We Do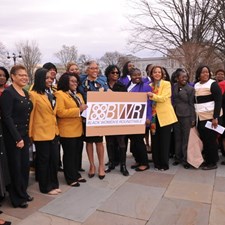 The Black Women's Roundtable (BWR) is the women and girls empowerment arm of The National Coalition on Black Civic Participation (The National Coalition/NCBCP). The BWR promotes health and wellness, economic security & sustainability, education and global empowerment as key elements of success. BWR established its Intergenerational National Policy Network in 2008, which is comprised of a diverse group of Black women civic leaders representing international, national, regional, and state-based organizations and institutions. Together, the BWR membership represents the issues and concerns of millions of Black people who live across the United States and around the world.
The BWR Summit was March 29 - April 2nd and included the release of the 2017 BWR Report 4th Edition - Black Women in the U.S., Moving Our Agenda Forward in a Post-Obama Era.

Events included a Day of Action & Hill Visits on Capitol Hill, It's All About Community Action Day; It's All About You Health, Healing and Inspiration Day & Mini-Expo; and Faith In Action Day.

The 2017 BWR Summit brought together a diverse and inter-generational group of over 300 Black women and girls from across the country.
The BWR Summit is a component of our BWR Healthy, Wealthy & Wise Empowerment Project. The BWR Empowerment Project focuses on amplifying the intergenerational power and voices of black women on race & gender equity, economic security & prosperity, income inequality, health, economic, educational and social issues impacting urban centers, small towns and rural communities.

Click below to see photos from the 6th annual BWR summit
2017 BWR Summit March 30th - Hill Day Prep.
2017 BWR Day on Capitol Hill - March 30th
2017 BWR Summit - Public Policy Education Lunch Briefing - March 30th
2017 BWR Summit - Welcome Reception & Technology Tour - March 30th
2017 BWR Summit - #Ready4theFight for Our Rights & Justice Plenary - March 31st
2017 BWR Summit - The Federal Budget Morning Plenary
2017 BWR Summit - Girls Strack Organizing & Enrichment Sessions - March 31st
2017 BWR Summit - Regional State-Based Organizing Sessions - March 31st
2017 BWR Summit - The Coca-Cola Foundation Presentation - March 31st
2017 BWR Summit - SisTars Awards Ceremony & Reception - April 1st
2017 BWR Summit - The Power of Black Women in the Media, Politics & Entertainment - March 31st
2017 BWR Summit - Women & Girls Lunch Plenary - Opening Remarks & Special Awards Presentation - March 31st
2017 BWR Summit - SisStars Can We Talk Strategy Report Outs - March 31st
2017 BWR Summit - The Power of Black Women's Leadership Global Empowerment Roundtable - March 31st
2017 BWR Summit - 6th Annual Love You More Power Walk - April 1st
2017 BWR Summit - Healthy, Wealthy, Wise Enrichment Sessions - April 1st
2017 BWR Summit - Health, Healing & Inspiration Sessions - April 1st