Join Us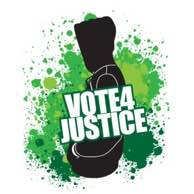 Unity Campaign '16 Youth Electoral Organizing Initiative
Black Youth Vote! (BYV!) is the youth and young adult civic leadership development and organizing arm of the National Coalition. The BYV! #Vote4Justice Organizing Initiative's goal is to continue it's legacy of engaging black youth in civic engagement, issue organizing, voter empowerment and voter protection. When BYV! began in 1996, voter turnout for young people was extremely low averaging 17-34 percent. However, over the past decade black youth have led voter turnout in presidential election years, voting at 45 percent in 2012. BYV! Is one of the leading youth led movements focused on training a new generation of black civic leaders, elected officials, advocates, activists and organizers. BYV!'s priority is to connect to protest to public policy through the power of the vote.
Tactics used for the #Vote4Justice will include: ❏ HBCU Campus/Community Voter Engagement Challenge ❏ Voter Registration efforts, particularly on college campuses ❏ Ensuring that Registered Voters and Potential Voters have Proper Identification ❏ Nonpartisan Voter Education and Training ❏ Identification Polling Locations ❏ Get Out the Vote Efforts (GOTV) on targeted campuses and communities ❏ Distribution of Voter Protection Resources (Websites, poll workers, poll monitors, social media interaction) ❏ Sparking circular community engagement (students to families)
Target States ❏ Alabama ❏ Florida ❏ Georgia ❏ North Carolina ❏ Maryland ❏ Michigan ❏ Ohio ❏ Pennsylvania ❏ Virginia ❏ Washington DC
TAKE ACTION with #Vote4Justice
CONNECTING with #Vote4Justice via SOCIAL MEDIA
We will energize, create excitement, motivate and galvanize Black youth to get out the vote in 2016 in record numbers through various tactics to include social media by:
1. Promoting the work of our #vote4justice partners and BYV! State Coordinators 2. Connecting black youth in our targeted states to tools and resources preparing for Election Day 2016. 3. Building the narrative online that black youth vote!
HBCU/Community Voter Engagement Challenge
The goal of the HBCU/Community Voter Engagement Challenge is to REGISTER, EDUCATE, and MOTIVATE students/youth to vote at HBCU's other colleges/universities and surrounding communities; and help to PROTECT voters on campus and surrounding communities by volunteering to be poll workers or poll monitors.
✓ Criteria of the HBCU/Community Challenge will be a percentage-based contingent upon the population of students who are registered at the respective institution and registration will be tallied through "Pledge Cards" (which consists of a signature that states you will go out and vote on or before Election Day 11/8/16 and volunteer to be a poll worker or poll monitor).
✓ All schools will be recognized by the National Coalition on Black Civic Participation (NCBCP) for participating in the HBCU/Community Challenge on their campus.
✓ The HBCU/Community Challenge winner that proportionally has the most students, registered to vote and sign up to volunteer to be poll workers or poll monitors in their local communities in 2016 will receive the Black Youth Vote! Campus of the Year Award and recognized by the NCBCP and our media partners (Radio One, Essence, NNPA)
✓ The HBCU/Community Challenge Activities include: ○ Campus Voter Registration, GOTV, Voter Protection ○ Absentee Ballot Campaign ○ Poll Worker Recruitment ○ Poll Monitor Recruitment ○ Daily Engagement via hashtags #Vote4Justice, #HBCUunity16 ○ Social Media Promotion ○ Promote HBCU/Community Challenge on Campus and in Community
The HBCU/COMMUNITY Challenge LAUNCH DATE is AUGUST 6th.
#BLACKMENVOTE -- "From PROTEST to POLICY and to the POLLS"
The Black Youth Vote! BMI will mobilize moving from them PROTEST to POLICY and NOW to the POLLS 2016 through use of voter engagement and the collection of our BYV! BMI Pledge Card. Collected cards received will provide the BYV! Coordinators and partners to mobilize other black men based upon pledge commitments to include: voter registration, voter education, voter protection and GOTV.
Click this link to sign the BYV! Black Men Vote "Pledge Card" https://goo.gl/OybhwR
For additional information about #Vote4Justice Campaign please contact the Black Youth Vote! Team 202.659.4929
Deven D. Anderson Unity '16 Senior Advisor & BYV! Lead Organizer devenunity@ncbcp.org
Brianna Patterson Black Youth Vote! Civic Engagement National Coordinator
Daniel Bradley BYV! Black Male Initiative National Coordinator
Sherman Justice BYV! Black Male Initiative Fellow
Savannah Campbell BYV! Collegiate Interns
Darrell Coles BYV! Collegiate Interns