NCBCP Thomas W. Dortch, Jr. Institute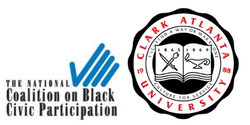 For Leadership, Civic Engagement, Economic Empowerment & Social Justice
and Southern Regional Office
OVERVIEW
The National Coalition on Black Civic Participation (NCBCP) has partnered with Clark Atlanta University to expand, deepen and strengthen its work in The South and nationally by establishing the NCBCP Thomas W. Dortch, Jr. Institute for Leadership, Civic Engagement, Economic Empowerment & Social Justice & Southern Regional Office (The NCBCP TWD Jr. Institute) on the campus of CAU.
The NCBCP TWD Jr. Institute – whose mission is to amplify its civics education, civic engagement, racial, voting rights, economic and social justice research, leadership development and community outreach work at CAU  and other historically black colleges and universities (HBCUs) and the broader Black community in the Southern Region and nationally – shall be a key component of the National Institute's Rebuild Hope, Justice, Equity & Equality Initiative.
PROJECTED ACTIVITIES FOR 2022/2023
The NCBCP TWD Jr. Southern Institute will launch its inaugural fellowship and internship program for undergraduate and graduate students at CAU, other HBCUs in The South and community-based leaders. The program will focus on developing and supporting leaders in the areas of voting rights advocacy; racial, economic and social justice and empowerment issues affecting Black and other communities impacted by systemic racism and social injustice; criminal justice and policing reform; healthcare; education; economic and environmental justice; and other issues.
The NCBCP TWD Jr. Institute will host national and  regional summits, forums and civic engagement trainings at CAU including: 1) the Annual Voting Rights, Racial, Economic & Social Justice National Summit; 2) the Annual Black  Youth Vote Civic Leadership & Organizing Southern Regional Training Conference; 3)  Civil Rights & Social Justice Intergenerational Leadership Lecture Series; and 4) the Andrew Young Emerging Leadership Institute (AYEL), in collaboration with National  Black College Alumni Hall of Fame Foundation, Inc. 
Envisioned as a place, space and vehicle to conduct rigorous research, support the development of Black civic engagement & social justice leaders; and investing in NCBCP affiliates, Black Women's Roundtable and Black Youth Vote networks and partners in the South and nationally, The Institute is a core component of the NCBCP's Rebuild Hope, Achieve Justice, Equity & Equality Initiative.
Anchored on the campus of Clark Atlanta University (CAU), The Institute will draw from CAU's stellar center of research and critically acclaimed programs in business administration, management, communications, and political science.  
The NCBCP and CAU Partnership will address the overall mission of amplifying civic engagement along with urgent issues affecting Black communities and others impacted by both systemic and structural racism, inequities and injustice.