NCBCP Headlines
Actor Charles S. Dutton and Detroit Pistons Legend Isiah Thomas Inspire Black Men's Roundtable Tour Launch
When the Florida Coalition on Black Civic Participation (FCBCP) originally planned and hosted their 2012 Healthy, Wealth & Wise Mini-Expo and Black Men's Round Table (BMR) in Miami, FL, the organizers were unsure what to expect. But the gathering of Black men that included NBA Hall of Famer, Isiah Thomas; actor and producer, Charles S. Dutton ("Rock"); Dade County Circuit Judge Daryl Traywick; and Miami Police homicide detective and cast member of "48 Hours," Detective Ervans Ford, proved to be so powerful that the singular occasion has spawned the announcement of the FCBCP Black Men's Roundtable Statewide Tour. Jacksonville, Tallahassee, Orlando will be among the first stops.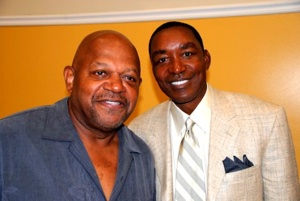 (L-R) Charles S. Dutton and Isiah Thomas
"Our guest speakers triggered a lot of emotion in the men," reveals Desmond Meade, chair of FCBCP Black Men's Round Table, "Charles Dutton and Isiah Thomas spoke to the hearts of these men, relating to them on a universal level of brotherhood. We are simply overwhelmed with the positive feedback and excited for the opportunity to connect with men in other cities and states."
A springboard of the popular National Coalition on Black Civic Participation (NCBCP) "Black Women's Roundtable Health Wealthy & Wise National Tour," BMR will now address and focus on the concerns and issues of Black men. With the goal to uplift, educate and empower Black men and youth, the BMR tour will continue to provide important information related to health and wellness and stimulate honest discussions about issues relevant to Black men all in a mini-expo environment. Due to aggressive voter suppression efforts across the country - with Florida as the poster child - voter education and voter protection are a central component of the event. "We are just so thankful to the Knight Foundation, as one of our sponsors, for their support to Florida Coalition. It is because of partners like them that we can continue to host these roundtable events, providing men and women a space to talk, commune, learn about their voting rights, and really make a difference in each other's lives," offers Salandra Benton, FCBCP Convener.
Read more here.