Press Releases
All Media inquires, please contact:
Angelo Greco at (917) 499-2688  angelo@trillmulticultural.com
Lon Walls at (301) 996-1669  lwalls@wallscomm.com
Tyrice Johnson at (205) 643-4755  newmedia@ncbcp.org
Sep 18, 2011
Power of the Sister Vote in 2012! Forum
"The village is burning," exclaimed Susan L. Taylor speaking to over 200 diverse women attending the "Power of the Sister Vote Forum," a 3-hour conversation focused on leveraging the Black female vote hosted by The National Coalition on Black Civic Participation's (The National Coalition) Black Women's Roundtable and the Congressional Black Caucus Foundation (CBCF) in Washington, DC last week.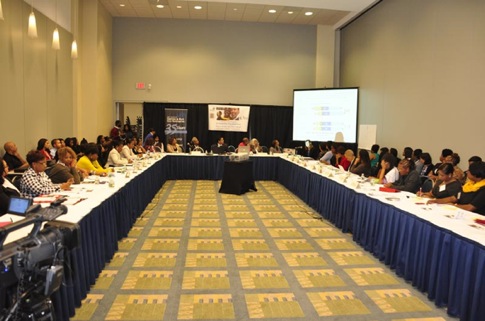 "We have everything we need at our fingertips to do what God is calling us to do, and that is stand together on purpose, with purpose, and demand respect and justice for our children, our men, for our people," continued Taylor, founder of Cares Mentoring and editor-in-chief emeritus of Essence Magazine.

Held during the CBCF Annual Legislative Conference, the forum brought together women leaders - from grassroots organizers to college presidents - to highlight the critical role Black women play in the election and unveil the policy priorities for women of the Black Diaspora going forward. d.

"Black women are potentially the single most powerful voting block in the upcoming election," said Melanie L. Campbell, president and CEO of the The National Coalition and convener of Black Women's Roundtable. "Pew Research Center reported that among all racial, ethnic and gender groups, Black women had the highest voter turnout rate in the 2008 presidential election. Also, Black women have a strong influence on their children, parents and Black men. We are determined to leverage our collective political power in 2012 and beyond."

There were four separate panels during three-hour forum: jobs, justice, equality and political power. Dr. Julianne Malveaux, president of Bennett College for Women and renowned economist, stopped by with her arsenal of statistics related to the unemployment rate.

"When you look at the data of those who have not been counted, you're talking 16% unemployment for everyone, 29% for African American's, and 32 % for African American men. These are depression level unemployment rates," Malveaux said. "The President's jobs plan is a step in the right direction and he should be applauded for that. But it's not enough."

AFL-CIO executive vice president, Arlene Holt-Baker, called for the women to mobilize to stop the attacks on union members by people who are determined to roll-back the progress made by unions. She urged the women not to back down on the fight for workers' rights.

Tonya Clay House, director of public policy for Lawyers Committee for Civil Rights Under the Law, displayed their compelling "Map of Shame," an interactive map that illustrates states that are enacting suppressive legislation (like restrictive voter ID laws) that will disenfranchise many voters including minorities, low-income persons, senior citizens, voters with disabilities and students.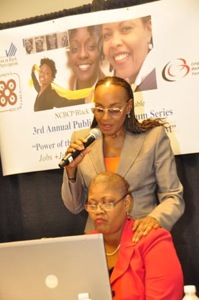 Other panelists included: Dr. Elsie Scott, CBCF; Chanelle Hardy, National Urban League Policy Institute; Felicia Davis, UNCF Building Green Initiative; Tamika Mallory, National Action Network; Senator Catherine Pugh, NBCSL; Letetia Daniels-Jackson, NCBCP Unity 2012; Dr. Claire Nelson, Institute of Caribbean Studies; Carol Joyner, Labor Project for Working Families; Dr. Avis Jones-DeWeever, NCNW; Rev. Barbara Williams-Skinner, National Black Clergy Network; and Tracy Sturdivant, State Voices, among others. Makani Themba-Nixon, The Praxis Project, served as moderator.

Black Women's Roundtable is an intergenerational civic engagement network of The National Coalition bringing together women representing diverse views and interests within the Black and community around the theme of women's advancement with a particular focus on motivating Black women to engage in all levels of civil society. The National Coalition is a non-profit, non-partisan organization dedicated to increasing civic engagement in Black and underserved communities. Current initiatives of the organization include Black Youth Vote! and the Unity 2012 Voter Empowerment Campaign.