Press Releases
All Media inquires, please contact:
Angelo Greco at (917) 499-2688  angelo@trillmulticultural.com
Lon Walls at (301) 996-1669  lwalls@wallscomm.com
Tyrice Johnson at (205) 643-4755  newmedia@ncbcp.org
Oct 27, 2011
Vivica A. Fox and Demetria McKinney Inspire Young Women at Black Women's Roundtable Empowerment Tour
Atlanta, GA - After honoring women's rights leader, Rita Jackson Samuels, and Riverdale Mayor, Dr. Evelyn Wynn Dixon, actress/singer, Demetria McKinney, and actress/producer/businesswoman, Vivica A. Fox shared inspirational stories about overcoming obstacles like single parenthood and joblessness with women and girls attending the recent Black Women's Roundtable (BWR) Healthy, Wealthy and Wise National Empowerment Tour.
Accepting an award for her civil and woman's rights work, Samuels told the young people "Don't ever give up on your dream." Samuels grew up poor in Forsyth Georgia but went on to work alongside Dr. Martin L. King, Jr., served at the White House under President Jimmy Carter, and founded Georgia Coalition for Black Women.
Mayor Dixon shared a riveting story of growing up in segregated Atlanta, a bitter divorce, eviction and surviving homeless as a single parent of five kids. "When my husband left me I became homeless and even suicidal. But at the lowest point in my life I found the courage to pick myself up and refused to let adversity hold me back," said Dixon who started community college at 35-years-old and earned a PhD at 50.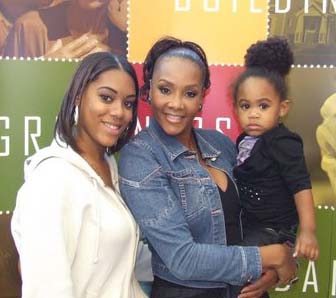 Energizing the audience with her knack for keeping it real, Fox, the co-star of "Kill Bill" and "Kingdom Come", urged the women to take charge of their own life and addressed ageism against women in Hollywood. "My agents told me there aren't roles for Black women over 40 in Hollywood. I asked, have you forgotten I had Independence Day with Will Smith? Have you forgot I set it off with Queen Latifa and Jada Pinkett? Or that I played the game with Morris Chestnut? Fox continued, "I regrouped and took hold of the 'business' side of 'show business' and began producing films, stage plays and TV shows. I even have my own hair line Vivica A. Fox Wigs. Don't let nobody tell you what you can't do."
McKinney, who plays Janine Payne on Tyler Perry's House of Payne and recently released her debut CD, "Get Yo Ish", kept the down-to-earth tone as she outlined her rocky road to success. The single mother told the audience she had to drop out of college to raise her son. "I got a job waiting tables and moved to the projects but I never gave up. African American women are called and have to be the backbone for a lot. That doesn't mean there won't be obstacles. But remember, the situation doesn't make you," said McKinney, who was accompanied by the former EVP of Tyler Perry Studio's and CEO of Bobbcat Films, Roger Bobb.
A 19-year-old single mother attending with her two-year-old daughter in tow, Jazamin McCurdy, was excited to interact one-on-one with the speakers. "I feel so motivated to make positive changes in my life. The panel discussions helped me understand what I need to do and the stories from the speakers helped realize that I can do it."
In addition to the Sista-2-Sister Talk, there was a mini-expo, panels on domestic violence, economic health, politics, technology access and a fitness session led by Eshe of Arrested Development. Physicians from the Centers for Disease Control addressed health issues and pharmacists from Walgreens Pharmacy administered flu shots and donated vouchers for free flu shots.
Opening night of the three-day-event included a BWR Listening session hosted by Fire Chief Rosemary Cloud, the first African American female fire chief in the country. On Sunday the women attended services at Olivet Baptist Church in Fayetteville where they held aspecial tribute to BWR members Ruby Campbell-Pulliam and Adrienne Dennis.
"The Listening Session allowed women and girls to have a candid discussion about issues that impact their lives," said Helen Butler, executive director of the Georgia Coalition for the Peoples Agenda, the local coordinating partner for the event. "Issues ranged from no job, food or housing, to violence in their home and community. I am happy that we were able to provide valuable resources to the women."
According to Melanie L. Campbell, president and CEO of the National Coalition on Black Civic Participation (The National Coalition) and convener of The Black Women's Roundtable, "The goal of this national tour is to personally connect with women and girls in underserved communities. We decided to host the event on the south side of Atlanta because many women that are struggling to maintain can't make it into downtown Atlanta."
The BWR Tour traveled to ten cities featuring inspirational women like actress/singer/activist, Sheryl Lee Ralph, Susan L. Taylor, Cares Mentoring, and Clayola Brown, A. Philip Randolph Institute, and will culminate with a national event in Washington, DC. The tour is made possible by the W.F. Kellogg Foundation. BWR Atlanta sponsors include: AT&T, Verizon Foundation and the U. S. Department of Agriculture.
Convened by Dr. Joseph E Lowery, the Atlanta-based Coalition for the Peoples Agenda works throughout Georgia to support and establish coalitions in the Southeast states. Black Women's Roundtable is an intergenerational women's network of The National Coalition, a non-profit, non-partisan organization dedicated to increasing civic engagement in Black and underserved communities. For more information on The National Coalition log on to www.ncbcp.org.